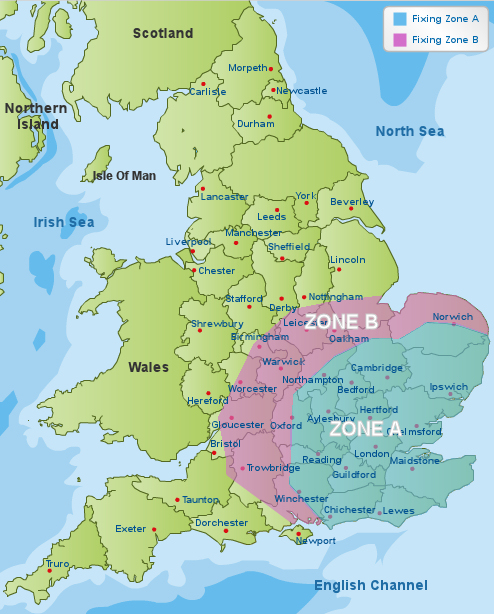 Coverage (Zones A & B): Bedfordshire, Berkshire, Buckinghamshire, Cambridgeshire, Essex, Gloucestershire, Hampshire, Hertfordshire, Kent, Leicestershire, London, Norfolk, Northamptonshire, Oxfordshire, Rutland, Suffolk, Surrey, Sussex, Warwickshire, Wiltshire, Worcestershire.
Fixing Only Service
Installing bi-folding doors requires specialised care and attention. If you are a trade company or individual that doesn't want the hassle of installing bi-folding doors, then why not get us to supply, deliver and 'fix' your bi-fold doors into an existing and fully prepared aperture. When 'fixing' our doors we will install the doors with due care and attention, toe and heel the panels, foam the frame (where necessary), fully test the doors, and leave the doors in a perfect working condition.
Our fixing service is available within areas A + B on the map (See map).
Please note that our 'fixing' service is only available for our bi-folding doors and is by no means a full installation service. This service does not include (but not limited to) mastic, sealing outside, plastering, rendering, making water tight, removing existing doors or preparing the hole.
Fixing + Survey Service
We will come out to site and survey the prepared aperture, take responsibility for the manufacturing sizes and the fixing of the doors within the hole. We will guarantee our workmanship and the doors. We will then 'fix' your bi-fold doors as detailed above (see fixing only service).
Please make sure all involved parties; builders, homeowner and other trades are aware of what work is and is not done by Duration Windows. Please contact our Sales Department for more information and advice.