Grand Designs Live Show At The Excel In London
4th May - 12th May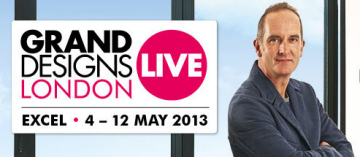 In May of 2013 we returned to ExCeL in London to Exhibit at Grand Designs Live. Grand Designs Live is an exhibition, which promotes idea's and inspiration on a grand scale. Based on the Channel 4 TV series, and presented by design guru Kevin Mc Cloud. We did not go to the show in 2012 and a lot had happed since then, so we wanted to make a big impression and use the show to showcase our NEW Royale steel replacement windows and doors. These windows are designed to exactly replicate W20 Steel windows, and can replace steel windows like for like and with no cutting back of plaster lines.
2013 was very different from previous shows at Grand Designs as we did not take any Bifold doors. The event was packed with over 500 exhibitors, across six different sections, covering interiors, gardens, home improvement, self-build, renovations, technology and shopping. The show was really good and we got some great leads for our Trade customers and we soon signed up for 2014, with the view to go all out again with a broader range of products.
Products That Were On Show:
Also exhibiting on our stand was Aluminium By Design our sister company and part of the Duration Group. They had their aluminium roof and roof lanterns on show.