Lift and Slide Patio Doors
20th May 2016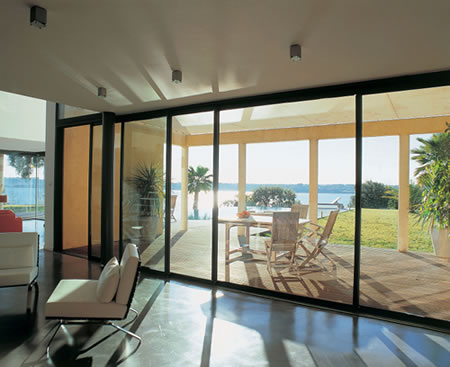 The Penthouse Plus LS is based on the design of our popular Penthouse Plus S and use a unique lift and slide mechanism and offers maximum glass area, resulting in increased natural light and unobstructed views. These doors are capable of large widths and heights and despite their weight, the high specification hardware enables them to lift and slide easily with minimum effort. Constructed from strong low maintenance 'Polyamide' thermally broken aluminium profiles, these doors deliver thermal efficiency and high performance.
Our Penthouse Plus LS patio doors are versatile and offer many different styles and designs. There are a range of panel configurations to suit any project, and a triple track system with three panels can achieve approximately a two thirds clear opening. Not only are these doors flexible, but they are practical too. They have a specially designed threshold that enables you to bring the internal floor flush with the top of the threshold, minimising any trip hazard. Suitable for many applications, these doors will fill your property with light and make the most of a beautiful view.
Please contact us for more information.