Homebuilding & Renovating Show - NEC
2nd - 5th March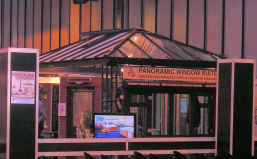 After the success of our '05 show, Duration Windows was at the Homebuilding & Renovating Show again this year. We took along some of our brand new products along with existing lines, all of which were very well received.
New products at the show included our All Aluminium Residential Door, Panoramic Window and Security Shutters. Our Bi-Fold Aluminium Doors and High Security Stable Door, which although not brand new products, were extremely popular.
The Show saw an audience of 48,350 over the 4 days, which ran from the 2nd - 5th March. Due to the success of this years show, we have already booked for next years show. We will also be attending the ExCeL show later this year, bringing our products to the South East.